Welcome to Urb Chicago Roofing Contractors
For a fast free estimate give us a call.
All estimates scheduled for next day!
Emergency service available
If your looking for roofers in Chicago and the Chicagoland area look no more because Urb Chicago Roofing Contractors offer complete roofing solutions and are serving the metro Chicago area and the surrounding counties. Chicago Roofing Contractors provide roof tear offs, new roof installations, as well as roof repairs and installation of gutter guard system to protect your drainage system.
Urb Chicago Roofing Contractors install, repair, and service both commercial and residential roofs. Urb Chicago roofing contractors have years of experience in the roofing industry and will provide you with nothing but the highest possible grade materials and great workmanship that can only be done by experienced Chicago roofers that are committed to their work and excellence.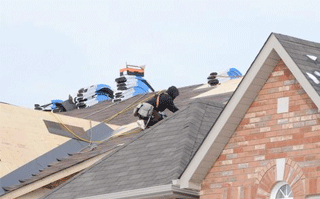 Shingles
Urb Chicago roofing contractors can install all type of shingles, on all type of roofs. Whether your roof is steep or low pitched there are a number of options to install. From the traditional 3-tab to a designer architectural shingle, we'll able to find the shingle that works for you. These shingles can have manufacturer's warranty ranging from 25 years to lifetime. We are certified Master Elite GAF Contractor, as well as a select Shingle Roofer by Certian Teed
Flat Roofs
Your flat roofing on your home or business can be repaired or replaced by Urb Chicago roofing contractors. Flat roofs have bad reputations but we have been fixing leaking flat roofs for over 20 years. Whether it is a small dormer, and addition to your home, large apartment or commercial building, we have the expertise, quality workmanship and materials to solve your flat roof problems. We install built-up asphalt, gravel, modified bitumen and TPO membranes. We will also be happy to repair your flat roof.
Repairs
At Urb Chicago Roofing contractors we pride ourselves on being able to handle anything our customer's home needs. Whether your house only needs a few new shingles, or have major storm damage, we are happy to help with all types of home repairs small or large.
Our Chicago Roofing Services include:
Commercial Roofing Installation and Repair
Residential Roofing Installation and Repair
Chimney Repairs/Rebuilding/Tuckpointing
Flashing Repairs
Siding Installation and Replacement
Sheet Metal Roofing
Gutter Installation
Skylight Installation
We are Chicago Roofing Contractors and your premiere source of roofing services in Chicago, Illinois. Urb Chicago Roofing Contractors was established several years ago to address roofing issues in the Chicagoland Area. The roofing services that we provide include installation, maintenance, on-site roof inspections, roofing surveys, life-cycle analysis, as well as strategies to extend the life of a roof.
We take pride in the quality roofing services that we provide to Chicago, IL and the long list of satisfied customers. For a free estimate call