Urb Chicago commercial contractors services Chicago and northern suburbs for all types of commercial building and contractor needs. We can take care of architectural plans and drawings, permits, foundations, footings, concrete, additions, change my space, rooms, bars, drywall, electrical, plumbing, windows, roofs, doors, heating, air conditioning, concrete, floors, wood floors, oak wood floors, tile floors.
In addition to residential properties, Urb Chicago commercial Remodeling has been specializing in Commercial build-outs, stores, expanding offices, building bars, lounges, nightclubs everywhere in the Chicago land metropolitan area, with budget friendly pricing.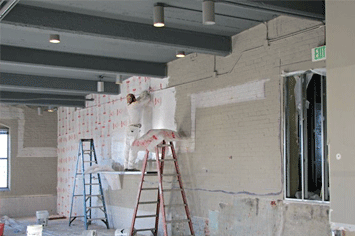 Chicago Store Remodeling Chicago Area:
No Chicagoland store is too big or too small for our professional crew, and no design is too much of a challenge. We work with you, and our experienced architects and designers to create that warm, welcoming environment for your customers that will always keep them coming back. You tell us a little about your vision, and we'll turn your vision into a reality at an affordable price that you can manage!
Urb Chicago commercial remodeling is also your Chicago store build out contractor. Our expert commercial crew has converted numerous old, outdated offices into new, modern, state of the art doctors offices, dentists offices, bars, lounges, restaurants etc. We have a solution for every industry and for every budget. Don't forget to contact us for a free, hassle free estimate. You'll be glad that you did!
Chicago Church Remodeling/Church Renovation Chicago Area:
Urb has been fortunate to oversee many Chicago Church renovations. We feel fortunate that many of our wonderful Chicagoland pastors trust Urb Chicago Remodeling in all of their church remodeling needs. We have renovated churches in the south side, north side, far north sides of Chicago.

For questions, more information or a free commercial remodeling, store remodeling, office remodeling, or church remodeling estimate, please email or give us a call.
And remember, we don't get paid until the job is done and you're completely satisfied!